Chemotherapy Patients
On the journey back to good health, one of the most challenging issues one faces is the loss of hair associated with chemotherapy drug treatment.Although this situation is temporary, its psychological effect can be devastating.
At Tiffany's, we will help you through this time by duplicating your exact hairstyle using one of our modern, lightweight wigs.
If your doctor tells you that your treatment may cause temporary hair loss, we invite you to call Tiffany's to schedule a consultation today. We will look at your current hairstyle and show you which of our wigs will best duplicate your look. If you'r not ready at that time, there is no obligation to buy.
If you need us...we're here for you. We promise to lift your spirits and keep you looking beautiful.
We guarantee you'll be delighted with your Tiffanny's experience!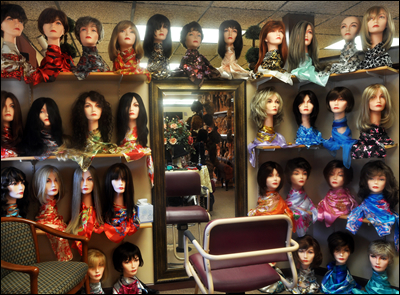 At Tiffany's, we have devoted ourselves to providing medical clients with the most caring and professional service possible. We have a wide selection to accommodate all budgets.
We offer a 10% discount to all medical clients and we also custom fit and expertly style each wig to the individual.