Human Hair
Tiffany for Women offers the finest human hair available in the trade. Human hair wigs and hair pieces have many advantages, including the ability to heat style.
We find that most women with long term hair loss actually prefer human hair to synthetic due to its versatility. Human hair wigs and hair pieces are just like our own hair, therefore, they feel like our own hair.
They need to be styled daily, washed and conditioned frequently, can tolerate heat styling well, and feel most natural to us.
They also respond to conditions just like our own hair, for instance, human hair wigs and hair pieces will tend to frizz in humidity, go flat when wet, and get very dry, and sometimes lighten in the sun. They can also be greatly affected by well water, lightening and drying may occur. These factors must be thoroughly understood when choosing human hair over synthetic hair.
Human hair wigs also have the advantage
of beautiful longevity.
If properly cared for, they can look gorgeous and last a very long time. It is imperative to have your Tiffany human hair wig or hair piece serviced frequently to allow it to maintain superior condition. They will benefit tremendously from deep conditioning treatments every 6-8 weeks, and shine treatments every 3 months. Tiffany human hair wigs and hair pieces certainly will turn heads, and keep you feeling your most beautiful you!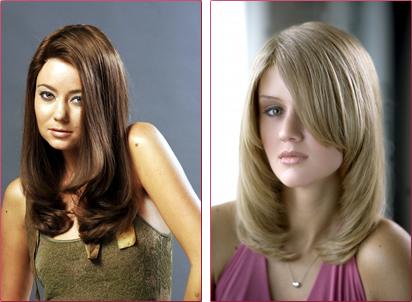 Don't wait any longer for beautiful hair, call us for your complimentary consultation today! Let us help you enjoy life with a full head of hair! Call us today at 401-944-9878!