Synthetic Hair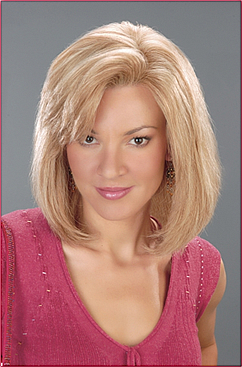 The innovations in synthetic hair today are incredible! Many synthetic wigs and hair pieces are considered superior to human hair in terms of ease, look and style.
Tiffany for Women is proud to have our own manufacturer creating wigs and hair pieces especially for us, in the most luxurious synthetic fiber available. These wigs and hair pieces are a dream. They are truly wear and go, pre-styled , always maintaining their beauty and shape, no need for heat styling. And, because they are synthetic fiber, they are non porous, which means they do not absorb odors the way human hair does. This allows for much less frequent shampooing and maintenance. Most women undergoing chemotherapy and/or radiation treatments prefer synthetic wigs due to these remarkable conveniences.
Some things you should know about synthetic wigs and hair pieces:
*NEVER ANY HEAT APPLIANCES, such as hair dryer, curling iron, or flat iron. Also, be careful when cooking, as heat from oven or range top will singe the wig causing it to frizz uncontrollably.
*They can all be custom tailored to your own individual needs, trimmed, textured, and angled.
*They do lighten over time, especially with prolonged exposure to sun or styling products.
Trust your hair to what only 45 years experience can provide.
Call Tiffany for Women today at 401-944-9878!